Summertime is always a fun time, but the heat wave can stand in your way. Though you can keep cool through various methods, using a dedicated fan will work out like magic. There are fans designed to suit any space. If you're at the office, home, or enjoying your favorite movie in a theatre room, you can still keep cool using a fan.
Disclosure : Some of the links below are affiliate links, meaning at no additional cost, I will earn a commission if you click through and make a purchase. As an Amazon Associate, I earn from qualifying purchases.
Despite the fans making us cool down during hot days, they may produce noise while in operation that disturbs our peace. But thanks to continuous innovations and technological advancement, fan makers have managed to design those that make little or no noise.
If you are interested in such fans, this guide is for you. In this article, you shall get insight into everything you need to know about silent fans. You will also get reviews of the best quiet fans you can use in your space during hot days.
It may confuse you what quiet fan to pick because they are so many on the market. They come in all sizes, designs, colors, power range, and price. Thanks to our dedicated team that went out there and did detailed research of the top silent fans available today.
The list gotten from the research is the one reviewed in this article. It will therefore make it easier for you to choose the ideal fan. But before we go to the reviews, let's look at how a silent fan works.
If you want to learn more about the best quiet inline fans, check our other article.
Comparison Table
Honeywell QuietSet Whole Room Tower Fan-Black, HYF290B
Dyson Air Multiplier AM06 Table Fan, 10 Inches,...
PELONIS 16" Oscillating Pedestal Fan | Standing...
SmartDevil USB Desk Fan, Small Personal Desktop Table...
Honeywell HTF210B QuietSet Personal Table Fan, Black...
Rowenta Turbo Silence Table Fan 18 Inches Ultra Quiet...
Item Dimensions
17.8 X 15.6 X 53.6 Inches
6.93 x 5.83 x 4.13 inches
Reviews of the Best Silent Fans for Hot Days
1. Honeywell QuietSet Whole Room Tower Fan-Black, HYF290B – The Best Silent Fan to Use Throughout the Year
Most fans come designed to cool you down during the hot season, but Honeywell's device is ideal to use all year round. It comes with an eight-speed tower to allow you to set it to the cooling option you need. What will excite you is the technology used in this fan. It produces a breeze like that from a spring, creating a cooling and relaxed environment.
While using the speed settings to control the coolness you require, you also manage the sound this fan emits. High speed produces some faint noise, but lower rates are impressively quiet, making it ideal to use in a silent or sleeping environment. It comes with a touch button to control the speeds.
Operating it is a piece of cake. The fan comes with a remote control housed on its back for easy access and storage. You can run it from a far distance, making it convenient to use. It features oscillating motion, which allows it to circulate air in an entire room, making it ideal to use at home.
On a hot day, you can place one Honeywell QuietSet fan in each room of your house for optimal results. Besides, it will enhance any room's look in its slim and fashionable design. Its black color will complement other colors in the room.
Despite offering you comfort all year round, this fan reduces your energy cost because it's power efficient. With its 1, 2, 4, and 8-hour auto timer, you also save on your power. It also comes with a fused plug for your safety.
The fan's price tag is below $100, making it affordable for most users. It is a perfect deal for your money!
---
2. Dyson Air Multiplier AM06 Fan – The Best Silent Fan for Tables
Dyson Air Multiplier AM06 Table Fan, 10 Inches,...
Dyson fans use patented Air Multiplier technology to create a powerful stream of...
2 year parts & labor warranty when purchased from an authorized reseller
Dyson fans are quiet and powerful while being safe and easy to clean
This Dyson Air Multiplier fan comes with a stand to rest safely on any table. Just because it gets designed to place on tables does not mean that it circulates air around the table area only. It comes in a sizeable size to cool an entire room.
You can place it on the table in your bedroom, living room, study room, or office. Then set it strategically to ensure it circulates air in the entire room. What's impressive is that it keeps you cool without making any noise, allowing you to enjoy a peaceful sleep and concentrate on your work.
The technology used creates a powerful stream of airflow that comes out uninterrupted. This fan is ideal to use if you have children or pets at home. It contains no fast-spinning blades, making it safe for your kids, pets, or while cleaning it.
It features a sleep timer that operates automatically. You only need to program it to stop after 15 minutes to about nine hours. It depends on you. With its ten precise airflow settings, you can program it to cool you at different speeds, making it very efficient and comfortable.
You don't need to be near the fan to operate it. Thanks to the remote control that comes with it. The remote comes magnetized to help store it on the machine neatly. Its silver round head with a straight, firm stand makes it look stunning on any table. It is an excellent addition to any room.
Though the price may be unattainable for most users, it is worth every penny. Besides, the manufacturer offers a 2 – year parts and labor warranty. But you need to buy it from an authorized seller.
---
3. PELONIS PFS40D8AWW Silent Turbo Fan – The Best Quiet Standing Adjustable Fan
PELONIS 16" Oscillating Pedestal Fan | Standing...
STRONG PERFORMANCE: specially-designed BRUSHLESS DIGITAL DC MOTOR and air blades,...
12 SPEED SETTING: An auto-dimming LED display provides readings of up to 12 speed...
12 HOURS AUTO ON/OFF: Use the preset timer to turn on/off the oscillating tower fan...
If you are looking for a standing fan with strong performance, you may need to consider this fan from PELONIS. Its DC motor is digital and brushless. Its quiet air blades generate a powerful airflow within a given space.
The blade comes enclosed in a sturdy covering for protection. You, therefore, need not worry about your safety while in operation. This fan comes in a 12 speed setting for excellent user experience and 3 – wind modes. You only need to set the speed you want. You can read the LED display's current rate, which works automatically.
You don't have to be around the fan to operate it, thanks to its remote control. You can adjust the speeds at a distance. You can also set it to go on and off automatically after every 12 hours, saving you power and energy bills. It also means that your room stays cool even in your absence. When asleep, you get guaranteed a quiet and calm atmosphere, enhancing you to sleep better.
Because each speed level offers an ultra-quiet performance, this fan is ideal to use both at home and in any working environment. Though it does not come fully assembled, it is easy to put it together. While placed in a strategic place in the room, it looks classic and neat, enhancing any room's appearance.
The manufacture offers a one-year warranty and comes at an affordable price. It is worth investing your money.
---
4. SmartDevil USB Desk Fan – The Best Quiet Fan for Desks and Tables
SmartDevil USB Desk Fan, Small Personal Desktop Table...
【Small But Powerful】: The size of the fan is:5.23 inch. Although it is small but...
【Adjustable & Easy to Clean】:Small, light and convenient personal fan with...
【Infinitely-variable Of Speed Control Knob】: Unlike the traditional wind speed...
Do you have a small personal table or desktop you would like to place a fan on? Look no further. This fan from SmartDevil will work out great. With a size of 5.23 inches, you can place it on any small surface. It is also portable, making it ideal for carrying along when you travel. You can also use it in your car, office, or home.
Despite its small size, it produces a powerful wind that helps circulate air quickly, keeping you cool. The blades installed are five and streamlined, explaining why this fan effectively reduces noise and wind resistance. The air supply area also increases, covering a large area.
Its design is unique and attractive, making it enhance the look of the area it's placed on. The materials used are sturdy and light, enhancing you to carry it anywhere with ease. It also offers services for a long period when maintained properly.
This fan's structure got created to make it easy to clean and adjust. The valve body adjusts up to 20 – degrees. You can also change the wind direction as you wish. What's fantastic about this fan is that it circulates the indoor air and balances the room temperature. If you want to take out the mesh cover for cleaning, you only need to rotate it anticlockwise.
It comes with an adjustable knob to control the wind speed. The knob rotates up to 180 degrees, giving room for various wind speeds.
The fan uses a USB to power it, meaning you can power it in your car, mobile charger, laptop or PC, or other devices that support USB power. It, therefore, saves energy because USB uses little power. Because it uses no batteries, it protects our environment.
Despite its amazing capabilities, the fan costs a peanut, and you enjoy free online customer service. It is worth having it.
---
5. Honeywell HTF210B Quiet Set Fan – The Best Quiet Table for Personal Table
Honeywell HTF210B QuietSet Personal Table Fan, Black...
OSCILLATING TABLE FAN – The Honeywell QuietSet 13" Personal Table Fan provides...
QUIET COOLING – Not just a personal fan, this oscillating tower fan offers powerful...
CUSTOMIZE YOUR COMFORT – With multiple options for sound and power, you'll always...
Are you looking for a fan for personal use? This fan from Honeywell may interest you. It stands at 13 – inches only, making it ideal for placing on any personal table. It operates quietly, keeping you cool as you work on your desk or table.
With its automatic shut-off timer, you get to save power when not around. Therefore, you don't have to dig deeper to clear your power bill. It comes with four power and sound levels to suit all people's cooling preferences. You can program it to the level of sleep, white noise, refresh, or power cool.
If you are looking for a fan with optimal comfort and less energy consumption, the Honeywell HTF210B Quiet fan will carry the day. It will improve your home's or office's airflow, keeping you cool during the summer. Unlike the AC motors, which use more energy, this fan uses DC (Direct Current), which consumes 50% less energy.
Its dark slim design looks gorgeous when placed on any table. Your space will look great with this fan. It also comes in cute packaging, making it ideal for gifting to your loved ones. Despite these great features, you don't have to break a bank to own this fan. It's a wise idea to have one for your table.
---
6. Rowenta VU2531 Turbo Silence 12 – Inch Table Fan – The Best Powerful Quiet Fan for Any Table
Rowenta Turbo Silence Table Fan 18 Inches Ultra Quiet...
POWERFUL AIRFLOW - Delivers exceptionally strong airflow (up to 1695 Cu. Ft./min) for...
4-SPEED SETTINGS - 12" oscillating head and easy-to-use manual control dial
5 BLADES - Uniquely engineered blades for extra-powerful, ultra-quiet performance
Are you tired of weak table fans that make noise while in action? You should try out this Rowenta 12 – inch silence fan. It got designed for any table, making it ideal to use in any room. The airflow from this fan is exceptionally strong, leaving you cool quickly.
The intense sensation of circulating air makes an immediate impact in any space. As long as the fan is on, the coolness is maintained, making you comfortable in the hot weather. The fan's head oscillates to ensure all air in the room has gotten circulated.
With its four-speed setting, you get to choose the cooling level you require. You adjust the speed level using a manual control dial that's easy to operate. Despite the fan coming with five blades, they produce no noise. Its noise rank is between 38db and 55db. It is equivalent to that used in a library.
Most fans are strenuous to move around, but not with Rowenta VU2531 silence table fan. It comes with a comfortable built-in handle to help you carry it around. Using it is safe as the blades come enclosed in a robust, wired cover.
Because of its beautiful design, it makes the space look attractive. It improves the theme of your room. You need not miss one for your table with its low price tag.
---
7. PELONIS DC Motor Ultra Quiet Fan – The Best Fan for Sleeping and Babies
PELONIS 16" Oscillating Pedestal Stand Up Fan |...
ULTRA QUIET & ENERGY EFFICIENCY: Equipped with DC silent motor, the Pelonis pedestal...
POWERFUL WIND & WIDE OSCILLATION ANGLE: 12 speed settings and 12-hour timer design...
EASY TO USE: Featuring blue LED display, remote control and auto power off functions,...
Babies get irritated by the hot weather. Sometimes it's so bad that they can hardly sleep. You could also find it hard to sleep in summer. The PELONIS DC Motor fan got designed to help you and your baby during the hot season. Its five powerful blades operate in an ultra-quiet manner, making it ideal to use when sleeping. The noise produced is approximately 38db, making it less loud than most standard fans.
Its slim stand in a sleek design makes it ideal for any nursing room or bedroom. With the blades placed on its upper side surrounded by a circular covering, it pleases the eyes and improves the room's look. The light blue blades and the structure's mix of white and black color complement other colors in a room.
The blades come in a strong protective cover for your safety. It comes with a 12 – wind setting, allowing you to enjoy the coolness at different speed levels. If you want to save power, you can program the 12 – hour timer to stop when the time elapses. You can also set it to start at a certain time when you are not around, making it convenient.
The fan oscillates at 85 degrees, with the angles tilting up to 24 degrees to ensure the wind covers the entire room. You can control it remotely for a distance of 6 meters using the remote. If you want to know the speed the fan is operating, look at its LED display.
The height is adjustable to cover you and the room entirely. In case the fan overheats, it switches itself off automatically. Thanks to its built-in overheat protection. The price is affordable, and the manufacturer offers a one-year warranty. So don't fear spending your money on this device. It is worth every penny!
The above reviews and other information given in this article have enlightened you more about the silent fans, but you could still be having some questions hovering around your mind. Here are some frequently asked questions and their answers to help you out.
How Do a Silent Fan Work?
You may wonder how a fan keeps you cool when hot without disturbing your peace. Fans work by moving air at various speeds. The type of fan you are using determines the kind of speed you can use. Some come made to circulate air at different rates. You only need to set them to operate at that particular speed.
The moving hot air then gets pushed out through openings like windows and doors. When the fan moves a stream of air on you, it makes any sweat on you evaporate, keeping you cool. All fans keep you cool using the same principle – moving air.
What differentiates quiet fans is their quality. Some can move a lot of air at once, while others take time. Others may offer their services for long, while some will last a few months. While buying a silent fan, you will need to consider some of these factors.
Factors to Consider Before Buying a Silent Fan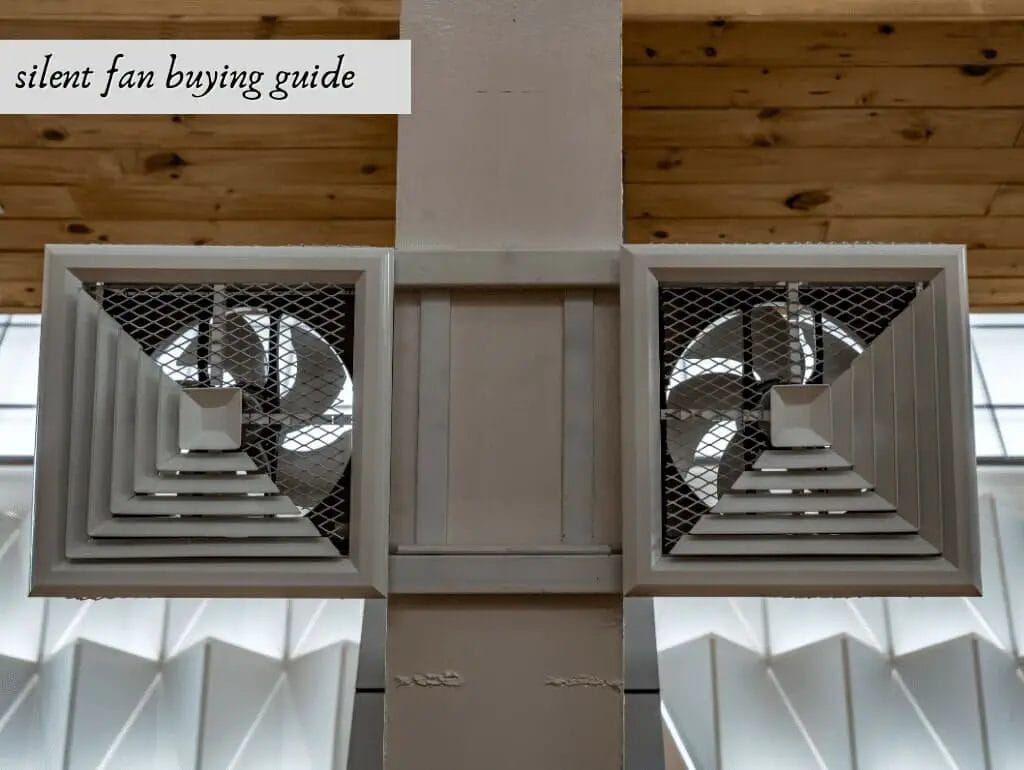 I. The Level of Noise Produced
Calling a fan 'silent' or 'quiet' does not mean it produces no noise. The sound produced by such a device while active may be too low. It cannot disturb even a sleeping child. Other sounds are so soft to the ears, causing no distractions.
The level of noise qualifies it either as silent or loud. It's hard to quantify the noise produced by a fan, but you can read it through decibel (dB). If you stay in a noisy environment, you may not hear your fan while in use because of its fair sound. But in a quiet environment, you are likely to hear even the slightest noise from the fan.
The quietest noise is the fan's sound when set on its lowest level. At 40db, the device may sound like a refrigerator. A fan with 120db may make a police siren-like noise. 50db is equivalent to moderate rainfall.
If you are looking for a silent fan, consider one with 30db and below. If you hear any sound from such a fan, it is like rustling leaves or breathing.
II. Fan Blades
They are the footprints of the fans. If a fan has massive blades, the noise produced reduces, sometimes to nil. It depends on the size of the blades. Small edges make a fan emit some sounds because they rotate faster. But how can you put large blades in a small fan? It's not practical, meaning fans with small blades are likely to produce noise.
The size of the blades goes with the size of the fan. But it does not make sense to place a large fan in a small space. Consider a fan ideal for the room size.
III. Speed Rate
The rate at which the fan runs determines its output. If it operates at a low speed, it will circulate air slowly, making it less effective. A moderate pace moves air moderately, but a high-speed fan will distribute a lot of air in a short time.
Some fans come with various speed settings. You can set the fan to run fast, faster, or very fast. Such fans offer outstanding comfort.
IV. Added Features
The work of a fan is to circulate air to keep cool. But some offer more than that. They come with extra capabilities to enhance the user experience. For example, fans with remote controls make it easier for someone to operate it at a far distance. You don't have to be next to the fan or physically touch it to use it.
Timers allow the fan to perform a specific task at particular times without your presence. You can time it to go on or off, making it very convenient. It also helps in saving power and money for power bills.
V. Strength
You may need to consider the fan's CFM (Cubic Feet per Minute). If a fan can move a lot of air at once and very quickly, then it's a powerful fan, worth buying. Fans with low CFM performs poorly.
VI. Room Size
The size of the fan you choose should fit the area of operation. A large fan is ideal for ample space, while a small room requires a small fan. You may find yourself struggling with the hot waves despite having a fan. You should check its size first. If small for the room, get a big one, and you'll enjoy the cool atmosphere.
VII. Price
Various things attribute to the fan's cost. What gets used in its making, the technology used, size, design, and brand contribute to its price. Those with extra features cost more as the added capacities increase the expenses.
It also doesn't mean that cheap fans are of low quality. They could be missing out on some features. If you are comfortable operating your fan manually, why go for the expensive remote-controlled one. The physically operated one will work out fine.
If you choose a fan with a high price tag than your budget, you will strain. Consider what you can afford.
You may consider the above factors when buying a silent fan but get confused due to the many options available. It is advisable to know the fan types available on the market today to make the correct decision. Some come designed to serve only during the day or night. Others can operate both times.
You can also get a fan designed for large or small rooms only. It depends on your preference. Some of the factors you may be looking for are available only in some fan kinds. For better insight, here are the available fan types;
Fan Types
1) Cyclonic Bladeless
They are the Dyson fans. Cyclonic bladeless fans get designed to operate with a high velocity while circulating air inside a room. It is why they do a thorough job compared to the other types. You can use it to cool yourself directly or circulate air fast in an entire room.
You will like this fan type because it uses less power, making it ideal to use both day and night without increasing your power bill. If you are looking for the quietest kind, this fan type is the best choice. It is quieter when compared to the rest.
2) Desk Fans
Desk fans are the small types. They sit on small surfaces like desks and often come with oscillating movement. You can also adjust their heights and angles. These small fans' cost is low, making them accessible by anyone, including students. The only disadvantage is that you cannot use them in a large area. Their power is not strong enough to circulate air inside a big room.
3) Tower Fans
Tower fans get designed to circulate air in small spaces like study rooms, kitchen, or bedroom. Though smaller in size, they are usually more significant than the desk fans.
4) Standing Fans
A standing fan looks like a larger version of a desk fan on a stick. It is ideal for cooling a larger room and has more power than the desk fans. You can also adjust its angles and height for a better user experience.
The above fan types enlighten you why you require a desk fan for your desk and not a standing variety. You are now wiser on what fan to choose for your needs and space. In addition to helping you select the right silent fan, here are the reviews of the top quiet fans found on the market today.
FAQs
i. Is There Something Like A Quiet Fan?
Yes, the oscillating fans. You can hardly notice their presence in the room. They operate extremely quietly, making them ideal for closed spaces like living or bedrooms. The fans pivot from one side to another, allowing optimal airflow.
ii. Are Quiet Fans as Effective to Cool as Noisy Ones?
Though there are quiet fans that are equally effective, most of them may not be that effective. Manufacturers reduce the speed of most silence fans to reduce noise, making them circulate air slowly.
iii. What Makes a Fan Quiet or Noisy?
When a fan vibrates, it produces some noise. Suppose the vibration is high, the sound increases. The materials used in its making, like wood, laminate, and thin metal also attributes to its noisemaking. Cheap blades also make noise.
The number of blades used in a fan determines the noise level it makes. The more blades used, the less noise produced. Some fans come with foam cushioning between their blades to reduce noise. But when the cushions get damaged, the fan may produce some noise.
iv. What Fan Blades Are the Quietest?
Some fan makers modify the blades with things like winglets to reduce noise. But as explained above, many blades in a fan make less noise. Some bladeless fans also operate silently.
v. Are 10mm Blades Quieter Than 120mm?
Large blades spin slowly, meaning they produce less noise. 10mm blades are very thin, making them spins quickly and fast. As a result, they produce noise. 120mm blades are quieter than 10mm blades.
vi. Are Fans Quieter or Air Circulators? What is Their Difference?
Fans direct air in their front side, making them ideal to use indoors and outdoors. But you cannot use an air circulator outdoors. Compared to a regular fan, an air circulator does an excellent job in cooling any indoor space. Fans are quieter and cost less. On the other hand, air circulators use little energy and get utilized throughout the year. But both of them are ideal to use in keeping you cool.
vii. Are Dyson Fans Silent?
Though Dyson fans are powerful and quiet, some models outperform them. Dyson fans' makers are always doing their best to reduce the noise produced by their devices. Unlike the traditional Dyson fans, their modern fans produce as little noise as 50db.
Conclusion
As illustrated above, silent fans are essential during hot days. They keep us cool, enhancing us to concentrate and sleep better. As discussed above, the market gets flooded with various quiet fans of different sizes, designs, and types.
To choose the right fan for your needs, you need to consider the factors explained above before buying. Also, know the type of fan you require. With this in mind, you can pick your ideal fan. The above reviews will help you know the top silent fans on the market today.